*** Attention D36 Members ***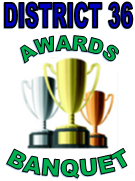 Due to damage sustained from the recent weather we have been having, D36 has been forced to find a new venue for the 2021 D36 Awards Banquet.
The new location is the Calaveras County Fairgrounds in Angels Camp, CA.  We apologize for this inconvenience, however we were lucky to find another venue on such short notice.  If you have any questions or concerns please feel free to reach out.  
There will be full hook ups available at this location as well as plenty of parking.
The address is:
2465 Gunclub Rd.
Angels Camp, CA 95222
— Katie Pond
President District 36